Public Safety Dispatch
'Text to 9-1-1' service is available at UC Santa Cruz
For more information click here.
As part of the UC Santa Cruz Police Department, the Public Safety Dispatch Center provides a wide variety of both emergency and non-emergency communications services to the campus, 24 hours a day, 7 days a week.
The Dispatch Center is a Primary Public Safety Answering Point (PSAP) for campus 9-1-1 emergency services, dispatching UC Police, and coordinating with the Santa Cruz Regional 9-1-1 Communications Center for Fire and Ambulance response, as well as other outside agency mutual aid services.
As of September 1st, 2012 UC Santa Cruz Public Safety Dispatch no longer directly dispatches the UC Santa Cruz Fire Department. The campus dispatch center continues to directly receive, assist and transfer emergency calls in need of Fire Department response, and provide the same focused and dedicated service for supporting the campus community.
All Dispatchers are P.O.S.T. Certified through the California Commission on Peace Officer Standards and Training, a statewide organization established by the legislature to set minimum selection and training standards for California law enforcement personnel.
In addition to 9-1-1, the Dispatch Center answers over 100 other phone lines including: Blue Light Phones & Elevator Emergency Call Boxes at numerous campus locations, Seven Digit Emergency lines, Police non-emergency, Fire Department non-emergency, General Maintenance Emergencies, Community Safety Officer (CSO) line, and the Telecommunications Device for the Deaf. See below for a list of numbers available for public use.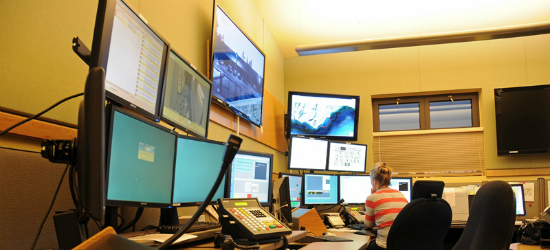 UC Santa Cruz Public Safety Dispatch directly monitors the various campus systems for Security and Fire Alarms, the Public Safety Dispatch Center also provides call taking and dispatching services to a number of other campus departments, consistently prioritizing different levels of communications. Aside from Police, Fire and Medical, the Center processes and dispatched calls for service for/from:dispatching appropriate responses for each. Dispatchers also assist Police, Fire, and the Campus Alarm Technicians to help maintain the systems' optimal status. Other alarm systems monitored and dispatched are for the campus phone and radio communications systems, and various Science equipment alarms.
Parking Enforcement Officers
Community Safety Officers (CSO): On duty nightly without exception, in various zones for all student residential areas.
Physical Plant: emergency and non-emergency issues with campus Systems and Facilities including assistance to the Work Order Desk, Cogeneration Plant, Electricians, Plumbers, Lighting and Grounds, etc.
College, Housing and Educational Services: for residential maintenance during nights, weekends, and holidays.
Contact Information
Contact Information
Phone Number
When To Call
9-1-1
Any kind of emergency situation with serious threat to life or property

(831) 459-2345  (831) 459-4868

Any kind of emergency situation with serious threat to life or property, if unable to dial 9-1-1 from phone being used.
(831) 459-2231
Non-emergency police related calls, 24 hours
(831) 459-2100
Campus Safety Officer Dispatch Line, 7pm-3am nightly
(831) 459-4861
Major Emergency Maintenance problems;
requests for response that cannot wait until the next business day
(831) 459-4980
Telecommunications Device for the Deaf, 24 hours
(831) 459-3333
Records and Communications Manager's Office/Voice Mail