Community Police Academy
Contact Information:
Officer Adrian Medeiros
831-459-2231 ext.1
aamedeir@ucsc.edu
Community Academy Forms:
Community Academy Application (PDF)
When: TBD
Time: TBD
Where: UC Santa Cruz Police Department
Application Deadline: First Week of the Quarter
Are you interested in learning more about the UC Santa Cruz Police Department and our community? We offer a free, ten week Community Academy three times per year to inform our community about:
Community and Police Relationships
Arrest-Search-Seizure
Defensive Tactics
Lethal Weapons
High Speed Chases
High Risk Stops
Shoot or Don't Shoot Scenarios 
Community Oriented Policing
If you are interested and wish to apply, please complete the academy application form and mail it to the UCSC Police Department, attention: Officer Adrian Medeiros. The application form can be downloaded here or you may email aamedeir@ucsc.edu. Enrollment is open to all UC Santa Cruz students, staff, faculty and citizens in the community who wish to learn more about law enforcement on campus. UC Santa Cruz students may be able to receive academic credit for full attendance.
There are no special requirements for taking the course, but UC Santa Cruz Police requires that each candidate be screened with a Livescan background check. We reserve the right to refuse any candidate.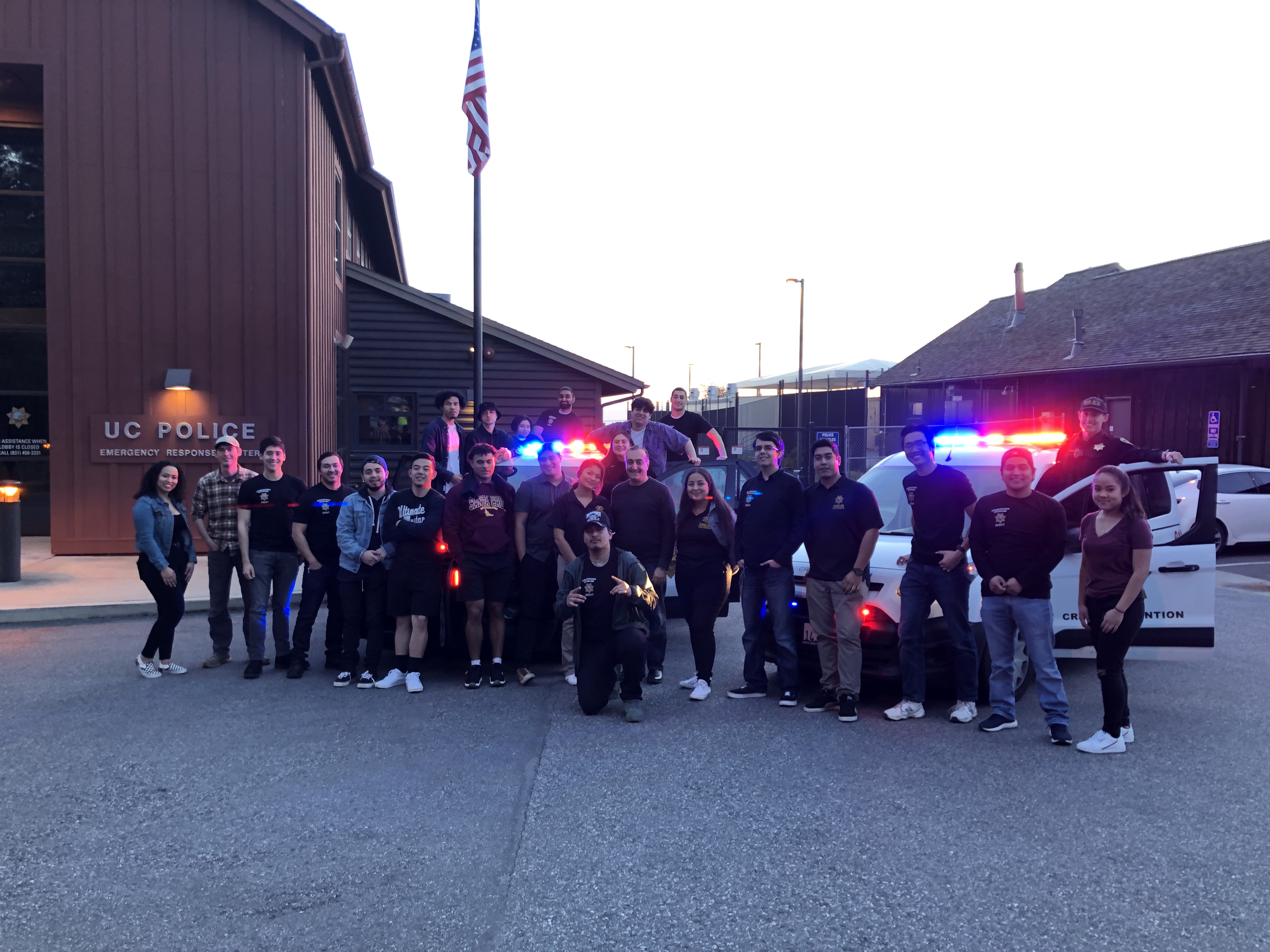 Those seeking academic accommodations please review the following information:
UC Santa Cruz is committed to creating an academic environment that supports its diverse student body. If you are a student with a disability who requires accommodations to achieve equal access in this course, please submit your Accommodation Authorization Letter from the Disability Resource Center (DRC) to Chief Oweis or designee by appointment, preferably within the first two weeks of the quarter. At that time, Chief Oweis or designee will also like to discuss ways we can ensure your full participation in the course. We encourage all students who may benefit from learning more about DRC services to contact DRC by phone at 831-459-2089 or by email at drc@ucsc.edu.  
Confidentiality Reminder
Disability-related information and affiliation with the DRC are confidential matters protected by FERPA guidelines.  Please keep DRC letters confidential and do not identify DRC students or acknowledge individual requests for accommodations in public.
Textbooks/Electronic Access
A significant number of DRC students require course materials in alternate formats.  Students with print disabilities require texts in Braille, large print, electronic and/or audio formats. Students who are Deaf or hard-of-hearing require closed-captioning on all course video content.  Blind students require image descriptions. The DRC will support you in creating access to materials.  The DRC needs at least two weeks to create these materials.
Exam/Assignment Arrangements
Chief Oweis or designee will arrange or administer exam/assignment arrangements for students who have testing accommodations. (http://drc.ucsc.edu/faculty-and-staff/fac-staff-overview/providing-accommodations/exam-accommodations.html)